INSTALL INSTRUCTIONS
Time required: About 30 minutes. Don't be in a hurry! 
Tools needed: Drill, 5/16" bit, 1/2" box end or socket wrench, C-clamps or Grip clamps.
1. Place the Prop Guard® on the underside of the cavitation plate. Align the guard so that equal distance exists between the guard and the prop when the propeller revolves inside the guard. The Prop Guard® should be positioned as far forward on the cavitation plate as possible. Note: the mounting surface of the guard should remain flat against the cavitation plate. The use of a hand file may be needed to remove any imperfections in the lower surface of the
cavitation plate and the lower skeg.
REMOVE TRIM TAB FIN UNDER CAVITATION PLATE.
INSTALLATIONS OF 9", 11",13"& 14" MUST NOT EXCEED 35 MPH AT THIS TIME.
2. Clamp the guard to the underside of cavitation plate using C-clamps or Grip clamps. Insert bolts, washers and Nyloc nuts through bottom of pre-drilled holes at bottom of rings and loosely tighten.
3. Make certain that the guard is square with the cavitation plate, propeller and lower skeg. PROPELLER MUST BESURROUNDED BY THE PROP GUARD. MAY NEED TO SLIDE PROP GUARD (PG) FORWARD OR AFT FOR PROPER PROP CLEARENCE.
4. Drill 2, 3 or 4 (see chart Above) holes through the cavitation plate and guard on each side. Insert bolts, washers (on each side of bolts) and Nyloc nuts as illustrated and loosely tighten.
5. Drill 1 to 2 (see chart above) holes through lower skeg, per illustration. Insert bolt, washer and Nyloc nut, tighten securely. Now tighten all your bolts. REMOVE CLAMPS!
6. EXTREMELY IMPORTANT: MAKE SURE YOUR MOTOR IS TRIMMED TO OBTAIN MAXIMUM PERFORMANCE OF YOUR PROP GUARD® .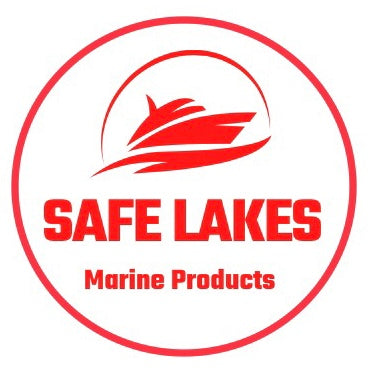 Safe Lakes LLC is a proud distributor of the PROP GUARD MARINE, INC product.